Unique Kitchen Coupling Shares Their Flavors of the Rainbow
A Gay and Lesbian Duo's Blueprint for Restaurant Success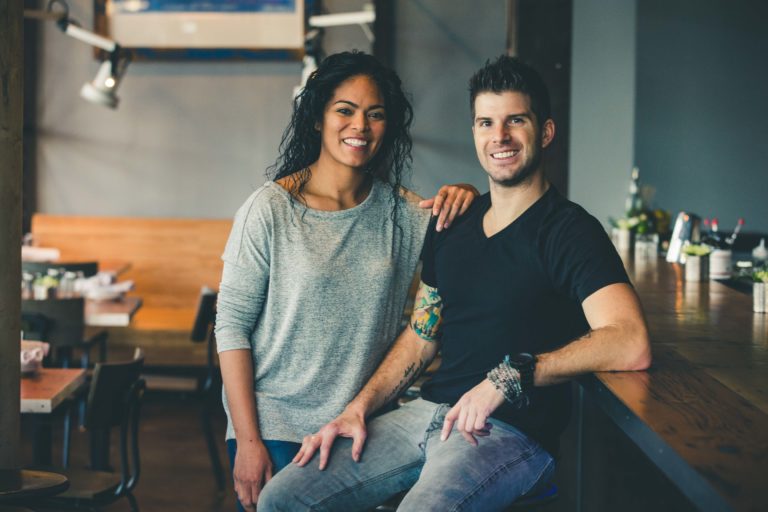 Dearly beloved, we are gathered here today to witness the union of Chef Ryan DiFranco and Chef Nicole Layog in culinary matrimony. It was love at first bite for this unorthodox pair of pasta makers, who took very different paths down the professional aisle to reach the altar of restaurant nuptials.
The courtship began a year ago at DiFranco's, a quick service seasonal Italian eatery on Lincoln street. Their newest bundle of joy is Blueprint Bar, a classic cocktail and simple small plate joint that opened in the summer of 2016 on 17th Avenue.
Whether it's the Butternut Squash Ravioli's filled with chile-rubbed pork shoulder, butter and sage citrus sauce and arugula at DiFranco's or the Brussels Tabbouleh with carrot tops, red onion, lemon and almonds at Blueprint Bar the menu items show a commitment to fresh, simple and classic ingredients born out of a lack of formal culinary school training in this tag team's background.
DiFranco, an openly gay man from Niagara Falls, New York spent his early 20's working for the national restaurant chain Hillstone out of Los Angeles. After a transfer to Denver in 2008, Difranco began to lay some local roots out of which four years later sprang DiFranco's at the bottom of the Beauvallon Condominium Building.
"This location kinda felt right even though no other restaurants had survived in this building until we got there," DiFranco said. "Our concept was a chef driven Italian quick service restaurant, something that did not exist anywhere in Denver back then. Now you see it everywhere. Whether by mistake or not, I was ahead of the curve."
While he may not have had many years running a formal kitchen setting, DiFranco credits the time he spent stirring red sauce with his mother and grandmother as laying the foundations for his cooking endeavours.
"When my mom wasn't around I would take a giant wooden spoon, dip it in the sauce on the stovetop,, lick the spoon, dip it again and keep going until you heard her come down the stairs and then I would run away," DiFranco said.
DiFranco's family plays many important roles in his professional life. From including his grandma's Chicken Parm recipe as a menu staple, to adjourning the restaurant walls with enlarged black and white photographs of his previous generations, DiFranco considers Layog more than just his partner in dicing, but truly a member of his family.
Layog credits an instant affinity with DiFranco after her hiring as the early seeds in what would eventually be her first opportunity to be a head chef in a kitchen after only working in the industry for a few years, something that traditionally takes cooks much longer to accomplish.
"Ryan and I had become best friends and we were cooking in each other's houses and playing with recipes before Blueprint became a thing," said Layog. "We just said let's get together and do something awesome and play with recipes. Thats one thing I love doing is cooking for friends and family and getting things together, I love it."
Layog, an openly lesbian woman from South Florida spent her young adult years as a Sheriff for Broward County in Fort Lauderdale. She briefly enrolled in culinary school but had to drop out after accepting a promotion to detective. In 2015, she moved to Denver and formally committed to a life of inspecting avocados instead of inspecting crime scenes.
"When Ryan told me he wanted me to run the kitchen at Blueprint I was so nervous, I had never run a kitchen before, I was a cop for 10 years, completely different world, now coming to this I was scared, I was nervous, I was excited," said Layog.
Throughout their professional careers, DiFranco and Layog both said that they have always been able to be open about being gay and lesbian and neither one ever faced any discrimination because of it. Both restaurants are very involved in the Denver Gay and Lesbian community, including sponsoring teams in the Denver Gay and Lesbian Flag Football league.
"Making food in the kitchen is an art and just because I am gay doesn't mean I can't make good food," DiFranco said. "I think it's really cool to have the management of our company be run by a gay man and lesbian woman.I am so proud of Nicole. She's really taking the reins and run with it."
—-
DiFranco's
955 Lincoln St, Unit D
(720) 253-1244
http://www.difrancos.com/
Chef Pick: sweet potato gnocchi with bolognese ragu, fresh oregano, pecorino, seasoned pumpkin seeds
Blueprint Bar
450 East 17th Avenue #110
(303) 927-6804
http://www.blueprintdenver.com/
Chef Pick: CROQUETTES ham, swiss, rosemary, red pepper aioli with a cocktail: SMOKE IN THE WATER fidencio mezcal, lemongrass simps, watermelon, lime